2009

Touring with Teachers


Columbia University, New York City

Touring with Teachers took 17 German stranded teachers on an altered itinerary through New York City. We embarked on a spontaneous tour extravaganza through the boroughs of New York City, getting fabulously agitated and temporarily shifting the spatial reality of these friendly educators.
To change their perspective and open them up for the unconventional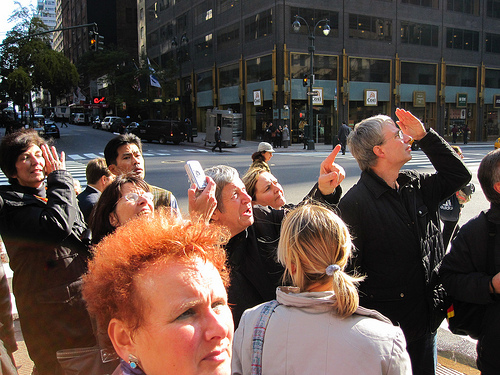 Between reality and fiction. I took the opportunity to change the itinerary of 17 stranded teachers
Including excursions to comforting food joints (Hungarian Pastry Shop on Amsterdam Ave)
Architect Annie Kwon introduced the architectural gems of Midtown NYC. Annie delicately maneuvered the touring teachers off the street and under the ground through the otherwise hidden internal workings of the monumental urban landscape.
Architect Annie Kwon showed us the interconnections of a delirious New York
Artist & Architect Rachel Barnard (Founder of
Young New Yorkers
) customized souveniers and turned history into her story
Rachel also opened up her apartment and roof top
Architect Rachel Barnard guided a tour of the sensory secrets of Chinatown and a seven-flight climb to her Chinatown rooftop. She narrated the phenomenally gritty view with facts while flirting with fiction. The possibilities of vertical and horizontal shifts in perspective were endless and culminated in the dark hours of a karaoke bar. Dumpling pre-ignition, naturally.
Chinatown market